Orion Shortube 90 (ST90)
---
Price: $439.00
Design: 90mm achromatic refractor operating at f/5.6 with a focal length of 500mm.
Description
:

Small wide field refractor that ships with a 26mm Sirius Plossl eyepiece, 6x30 finder, prism diagonal, and a EQ-2 equatorial mount with a wooden tripod.
The Review
I have been observing for about 1Ĺ years now. Started a little late in life (48). I am still chasing Messier objects and NGCís of opportunity depending on what is available for a given night. I live outside of Clio, Michigan which is about 60 miles NNW of Detroit.
I bought the Shortube 90 from Orion after borrowing a Shortube 80 for a few bights. I enjoyed the smaller scope so much I ordered the 90 for that little bit of extra light grasp.
I received the scope within the timespan promised by Orion. I bought the scope, mount, and tripod package. $439.00 plus shipping. It came in one big box with the different components in their own boxes along with adequate padding for shipping.
Everything was in order and undamaged. The scope came with the tube, prism diagonal (1ľ), 26mm Plossl eyepiece, a 6x30 finder, and wooden tripod. The tube feels solid and assembly wsa quite simple, I did not need to use the directions but it did come with some. The finder has a six point quick release bracket and the eyepiece is a Sirius Plossl both of which are fairly nice units. The tripod is almost overkill for the little tube and is steady as a rock but the negative is that the mount (EQ) does not have a level and there is no way to be sure that the tube is mounted squarely on the mount because it uses a ľ-20 adapter. That is not really much of a problem because of the wide views it gives. It takes a long time for an object to move out of the FOV giving lots of time to adjust out under the stars. The FOV is very sharp and contrasty at powers below 80x or so. I did study the planets and a few clusters at over 100x but the FOV really started to darken on the clusters at that power but the Moon and the two big gas planets held up pretty good at the higher powers. The Moon was really sharp but I have just now gotten a 7.5mm and 6.4mm to go further with the magnification on the brighter targets. I did change the diagonal to a higher quality mirror and all of my eyepieces are Plossl.
Negatives
The only real negatives I noticed is that the disk used to tighten the scope to the ľ-20 adapter comes loose and I have to take the adapter off the mount and retighten it and I do not like the fact that the tripod does not collapse for transport at although the cable extensions for the RA and Dec slow motion controls are more than long enough.
Conclusion
I have a ball for hours just seeing what I can locate with it but if I were to buy it today I would get Orionís Skyview mount and tripod with the OTA. It is a fun scope for casual star gazing or for a first scope. I feel I got a good value for my money.
Submitted by Bob Bowen Ė rbowen8684@aol.com - Clio, Michigan
---
The Review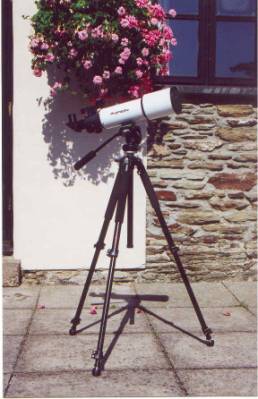 A recent addition is the Orion Short Tube 90. It has a 90 mm objective and a focal ratio of f/5.6, which indeed makes for a rather short tube. This means the telescope in easily carried on airplanes as hand luggage. I put it in an airline trolley bag, packed round with polyurethane foam, along with the eyepieces, star atlas etc. Optically it is quite reasonable. It excels at wide field views of the milky way: in fact thatís the main reason I bought I to scan the southern milky way during visits to Australia! Higher powers are okay, but bright stars do show some color. As an easily transportable telescope, itís highly recommended. I use a sturdy Swarowski tripod as a mount. I donít use the 30 mm finder: a finder this size is virtually useless. Instead I have fitted a Celestron zero power finder (the type which projects a red dot); it works very well.
Submitted by Jeremy Shears Ė jshears@pacific.net.sg